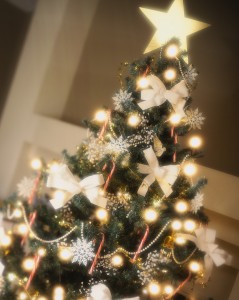 Wanting a new recipe for the holidays?  We've got you covered!  Check out these recipes –
Vegan Egg Nog serves 1
¼ ripe pear, cored
1 cup unsweetened milk
2 teaspoons lucuma powder
2 tablespoons raw cashews
1 teaspoon chia seeds
½ teaspoon cinnamon
¼ teaspoon nutmeg
1 teaspoon vanilla extract
8-12 drops vanilla stevia
Combine all ingredients in blender and process until smooth.
Refrigerate at least one hour.
Whisk before serving
Cranberry Apple Holiday Punch serves 10-12
2 liters of sparkling water
6 cups fresh apple cider
8 ounces of cranberry juice concentrate
55-60 drops liquid stevia
2 cups whole frozen cranberries
1 apple, sliced horizontally
Combine all chilled liquid ingredients and stevia in a punch bowl.
Add frozen cranberries and lay apple slices on top.
Caprese Skewers
cherry tomatoes
mozzarella pearls
fresh basil
balsamic vinegar
On each skewer, place a cherry tomato, a basil leaf and a mozzarella pearl.
Arrange on a platter and serve drizzled with balsamic vinegar.
Pears with Goat Cheese, Pistachios and Dried Cranberries makes 24
2 pears, cored and sliced into 24 slices
½ cup goat cheese
2 tablespoons pistachio pieces
2 tablespoons dried cranberries
1 tablespoon orange or lemon juice
Toss pear slices in orange or lemon juice.
Spread cheese on the widest part of the pear slice, then top with pistachio pieces and dried cranberries.
Stuffed Mushrooms serves 4
1 cup parsley, chopped
½ cup sun dried tomatoes
½ cup pine nuts
1 clove garlic, chopped
1 teaspoon lemon juice
¼ teaspoon sea salt
¼ cup olive oil
8 ounces mushrooms
In a food processor, place parsley and pulse briefly
Add sun dried tomatoes, pine nuts, garlic, lemon juice and salt, then pulse until almost smooth
Drizzle in olive oil and pulse again briefly to incorporate
Remove stems from mushrooms and stuff with pesto
Bake at 350° for 30-45 minutes
Serve
Raw Kale Salad
4 cups kale, destemmed and cut in a chiffonade
1 teaspoon sea salt
2 tablespoons freshly squeezed orange juice
1 tablespoon balsamic vinegar
1/2 teaspoon garlic powder
1/2 teaspoon orange zest
2 cups shredded carrots
1 cup chopped radicchio
1 cup chopped sun dried tomatoes
2 tablespoons minced red onion
1/2 cup chopped green olives
1 cup toasted sunflower seeds
1/2 teaspoon cumin seeds
1/2 cup golden raisins
3 cups cilantro, chopped
1 tablespoon soy sauce
3 tablespoons extra virgin olive oil
In a large mixing bowl, add the kale, salt, orange juice, vinegar and garlic powder. Massage well with your hands for several minutes.
Let the salad sit and marinate for 10 minutes then enjoy!
Sweet Potato Cashew Soup with Avocado Cream
Soup: 1 onion, chopped
2 stalks celery, chopped
2 tablespoons grapeseed oil
3 medium sweet potatoes, peeled, chopped, roasted
5 cups vegetable broth
1 cup raw cashews
Avocado Cream: 1 garlic clove, peeled
2 avocados
¼ cup plain greek yogurt
3 tablespoons lime juice
¼ cup fresh cilantro leaves
¼ teaspoon salt
Garnish:green onion, chopped and lime wedges
In a large pot, sauté onion and celery until soft.
Add sweet potatoes, cashews and broth. Bring to a boil, reduce heat, simmer for 20 minutes.
Remove from heat and puree with immersion blender or transfer to a blender and process until smooth.
Add lime and season to taste.
Combine all avocado cream ingredients in a food processor and process until smooth. Refrigerate in an airtight container until ready to serve.
To serve, add a dollop of cream to each serving of soup, sprinkle with green onions and have lime wedges available.
Garlic and Herb Mashed Cauliflower
1 head cauliflower, cut into florets
1 vidalia onion, chopped
3 cloves garlic, minced
1 tablespoon fresh thyme, chopped
1 tablespoon fresh rosemary, chopped
2 tablespoons unsalted butter
salt and pepper to taste
Place cauliflower in a steamer basket in a large soup pot, season with salt and pepper and steam until soft. 10-12 minutes, test with a fork.
Heat 1 tablespoon butter in a pan over medium heat.
Saute onion, garlic and herbs in butter until onion is soft and translucent. Season with salt and pepper.
Place cauliflower in food processor or blender with onion, garlic, herbs and second tablespoon of butter. Process until smooth.
Wild Rice Dressing with Chestnuts and Cranberries
Serves 12
2 cups uncooked wild rice
2 cups vegetable broth
2 cups water
½ teaspoon salt
1 ½ cups whole roasted chestnuts
1 cup dried cranberries
1 ½ tablespoons unsalted butter
1 ½ cups halved lengthwise and thinly sliced carrots
1 ½ cups chopped yellow onion
1 ¼ cups thinly sliced celery
½ cup minced flat leaf parsley
2 tablespoons minced fresh sage
1 tablespoon fresh thyme leaves
¼ teaspoon black pepper
Preheat oven to 400.
Combine rice, broth, 2 cups water and ¼ teaspoon salt in a saucepan. Bring to a boil, partially cover, reduce heat and simmer for 40 minutes. Do not drain; place in a large bowl and cover.
Arrange chestnuts on a baking sheet. Bake at 400 for 15 minutes. Cool and cut into quarters.
Place cranberries in a small bowl and cover with hot water. Let stand 20 minutes.
Melt butter in a pan over medium heat. Add carrot, onion and celery. Cook until vegetables are tender, stirring occasionally. Stir in herbs and remove from heat.
Add rice to the vegetable mixture. Mix in ¼ teaspoon salt, chestnuts, cranberries and pepper.
Spoon into a 13×9 inch baking dish. Cover and bake at 400 for 10 minutes.
This post comes to us from our friends at Natural Solutions for a Healthy You.  Want even more recipes?  View the entire post here –